I'll start with a little LO that I cooked up last night. I have been working through the
We Dare You
book. I didn't start at the beginning, I just picked the first dare that appealed to me: Scrap Your Fear. So, here's a peek into my biggest fear:
Now, on to the celebration...
First of all, yesterday was my mom and step-dad's 24th wedding anniversary. So, here's my little photo tribute to them from when they were on their way out last night: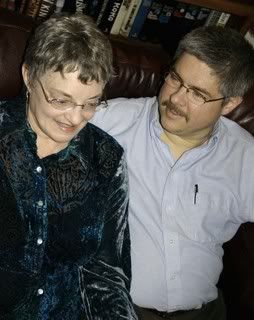 Second of all, Bryan passed his flight aptitude test with flying colors! I'm so excited for him, and for us. This will open up so many opportunities for us, and it means a signifcantly bigger paycheck too! I am married to a soon-to-be helicopter pilot. That's a little difficult for me to grasp, but it is such a huge success for Bryan! So, now he just has to complete the rest of his physical and subit his registration packet. And, then we will just wait for him to get picked up for the next available class session. This also means that we will be moving to Alabama for the next year and a half. So, if any of you ladies are living in that neck of the woods, hit me up and let me know what craftiness there is to be had in those parts. :0)
Here's where you guys come in. Since I've got all this celebrating to do, and I'm in such a freakin' great mood...I thought I'd let you all in on the action. Here's the challenge: make a LO about something major that you celebrated or want to celebrate. It could be the birth of your child, a new job, a promotion, finally being able to buy something that you had saved up for forever, an anniversary...whatever! Link me up before Oct 15th, and I'll pick a RANDOM winner to receive a nice little RAK. Check back tomorrow, and I'll have a little sneak peek at the goodies!
I'm all amped up for the
Poppy Ink
October kit to go on sale tonight. See some of you gals over there!